Orchid Care Talk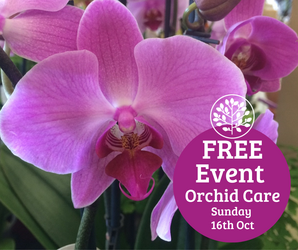 Event now ended
Join expert Manos Kanellos for some excellent advice on getting the best from your orchids.
This is a FREE talk.
Don't forget to bring your orchid along with you for tailored advice or to have it repotted.
You can have your orchid expertly repotted for £3 or for FREE when you buy a pot and orchid Focus Repotting Mix.
Talk start time: 11am
Date: Sunday 16th October
Orchid Clinic and repotting until 1pm
Venue: Function Room, The Olive Tree
Date:
Location: Ashtead Park Garden Centre