Santa's Stroll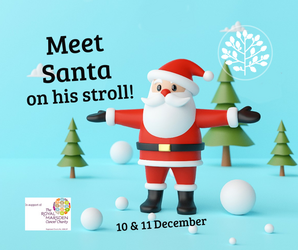 Event now ended
SANTA WILL BE SPENDING THE WEEKEND WITH US!
Come in for your Christmas tree, wreath, extra lights and decorations or just a festive treat in The Olive Tree and pay him a visit for a chat and a photo!
Santa will be taking a stroll around the garden centre, or you might find him resting in his igloo between 11am and 3pm.
No booking. Santa will not have any gifts with him this weekend.
FESTIVE FACE PAINTING!
* Edit* Face painting is on today, 11 Dec 11am-1.30pm
Be transformed into an ice princess, a reindeer or something else! Local face painter, Bee Happy, will be here 11am-1.30pm offering face painting for £5 to children (and adults!) aged 3 years and over. Please bring cash if possible.
Dates: and
Locations: Ashtead Park Garden Centre, The Olive Tree Restaurant