Terrarium workshops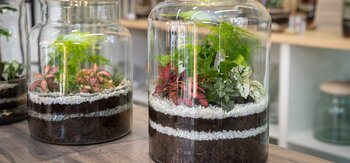 Sorry - SOLD OUT
Create your own terrarium!
Learn how to prepare your glass
Choose your plants
Plant up for best displays
Get tips on how to care for your new terrarium.
...all with the guidance of expert Manos Kanellos
Glass, plants and everything you need are included, plus a tea/coffee and a piece of cake!
A perfect gift!
Two sessions available: 1.30pm & 3pm.
Date:
Locations: Ashtead Park Garden Centre, The Olive Tree Restaurant