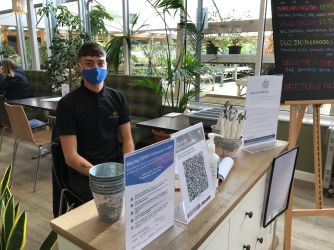 The Olive Tree has now been open again for 6 weeks! We are getting some lovely feedback from customers and are very grateful to everyone who takes the time to leave us a review.
We have lots of space to allow social distancing between tables, cleaning and sanitising is undertaken regularly and hand sanitiser is available at the entrance. If the weather is good, we also have the option of outdoor seating.
When you arrive, please scan the Track and Trace QR code, or check-in with a friendly member of staff
You can then find vacant table, peruse the menu and send one person from your party up to the till to pace your order, don't forget your table number!
We will deliver your food and drink to you at your table.
Please keep your mask on at all times when walking around.
We look forward to seeing you soon!