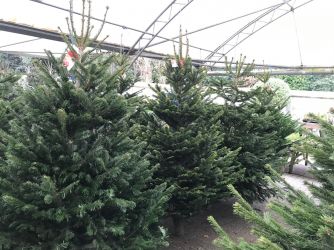 You can't beat a real Christmas tree for unique character and festive scent!
Our real trees are in store now!
Excellent quality, top-grade trees
No price increases on 2019 prices
New ticketing system to make buying your tree easier!
We will open netting so you can see the full potential of each tree, and when you find the perfect one, we'll re-net ready for you to take home.
FREE delivery - on any tree over £30 within 3 miles.
If you are not able to come in, please email us on [email protected] with your requirements and we'll select a tree on your behalf for delivery.
Fresh cut real Christmas trees
Nordmann Fir (Abies nordmanniana)
The king of Christmas trees! Excellent needle-retention, soft, glossy needles and a wonderful shape.
125cm-150cm. (3ft - 4ft)

£39.99

150cm-175cm

£49.99

175cm-200cm

£59.99

300cm-350cm

£149.99 New size!
Norway Spruce (Picea Abies)
The traditional Christmas tree with superb scent, lovely shape and lots of branches for your decorations. Sharper needles and more likely to drop.
100cm-150cm (3.5ft to 5ft)

£24.99
Blue Spruce (Picea Pungens)
A beautiful blue/silver tinge to the needles, great shape and fresh scent. Strong branches for decorating and spiked needles.
150cm-200cm (4ft to 6.5ft)

£39.99

New to Ashtead Park!
Nordmann Pot Grown Real Christmas Tree
Free red pot cover
100cm-125cm (3.5ft to 4ft)

£49.99

125cm-150cm (4ft to 5ft)

£59.99
All our pot grown Christmas trees come with a free red cover pot (without drainage holes) for a festive feel.