Garden Supplies Leatherhead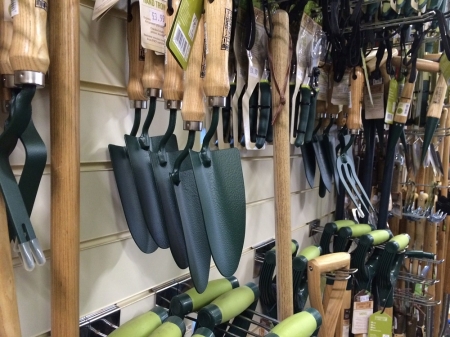 Looking for garden supplies near Leatherhead? Well, we have a thriving garden centre here at Ashtead Park that you might like to visit. We cover everything from gardening tools and furniture, fertilisers and clothing to landscaping solutions, seeds, plant, vegetables, fruits, and of course, flowering and other decorative plants. We host a comprehensive inventory in all categories so that any new or experienced gardener can easily find all the gardening supplies they need in one place. Moreover, if you're unsure about a specific category or item, our friendly and expert staff members will be there to guide you.
What are the garden supplies you can get near Leatherhead?
The Ashtead Park Garden Centre hosts a comprehensive range of inventory. We make sure that we have all the right garden supplies near Leatherhead so homeowners can find exactly what they need without having to scour elsewhere. Here are some of the many supplies that we offer:
Bulbs: We stock bulbs for every season.
Climbers: Cover the walls, obelisks and other structures with nature.
Containers: Buy unique containers for your garden.
Container Plants: Plants ready to be decorated as you want.
Decorative Gardens: Add statues and features to your garden that add dimension.
Herbs, Fruits and Vegetables: Grow your own herbs, fruits and vegetables, and impress your guests!
Garden Furniture: Turn your garden space into a relaxing spot by adding some comfy furniture.
Garden Lighting: Light up the nature in the dark with our extensive lighting options.
Garden Pests: Protect your plants from the pests that threaten to ruin your hard work.
Gardening Clothes: Dress up to dig up some dirt.
Gardening Supplies for Kids: bring in your kids for some gardening fun!
Gifts and Gift Vouchers: Buy gifts from our gift shop or get gift vouchers for a gardener.
Hand Tools: All your must-have tools under one roof.
Outdoor Cooking Supplies: Install an outdoor kitchen for those late-night parties or a family barbecue.
Plants: Choose from an extensive collection of annual and perennial plants, houseplants, trees and shrubs.
Protection: Protect your garden and garden furniture from the harshest days of the year!
Seeds: Get an experience of a lifetime buy growing your plants from seeds.
Soil and Fertilisers: Get multipurpose and specialist compost, soil improvers and fertilisers to boost the growth of your plants.
Stepping Stones and Aggregates: Get paving solutions for a great addition to your garden.
Watering Solutions: Summer brings a need for hydration for you and your plants. Our manual and automatic watering solutions can help keep your plants hydrated through the warmer days.
Wildlife Gardening: Attract nature with bird homes and feeders and bird food.
Why choose Ashtead Park to buy garden supplies near Leatherhead?
Ashtead Park Garden Centre has been around since the 1960s. We have ample experience and have accumulated a reservoir of knowledge and skills in all that is related to gardening. This we offer our customers, who are glad to visit us again and again! Drop by our store and choose the gardening supplies near Leatherhead that you need.
Visit us!
You can visit us every day of the week, from Monday to Saturday between 09.00 and 18.00, on Sunday between 10.00 and 16.30. Planning to visit around lunch? The Olive Tree restaurant is the ideal place to have a delicious meal! Visit our contact page for details on how to reach us!