Roses Epsom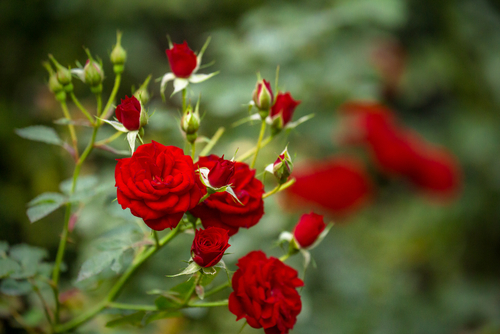 Find breath-taking roses near Epsom in the premises of Ashtead Park Garden Centre. We offer a wide range of rose types, including climbers and ramblers, and numerous species of wild roses and roses for scent and cutting. A rose in full bloom in your garden is something to be proud of and a sight that will shower you with compliments from your guests.
Varieties of roses near Epsom
Whether you're traditional at heart and prefer the blood red of the rose, or if you like a bit of variety and want to fill your garden with snowy white and cream roses, a shock of pink blooms and a bloom of butter yellow roses, we have it all.
We understand that when people look for roses near Epsom, they have certain preferences and would like to browse through extensive options before they finally fall in love with the one that is perfect for their garden. This is why we have numerous categories, including, but not limited to, the following:
Climbers and ramblers
Climbers are usually the stiff-growing, repeat-flowering roses that are perfect for arches, walls and trellises. Ramblers are more vigorous and produce many small roses, but are usually not repeat-flowering. This makes them ideal for covering large structures like sheds, garages, or even pergolas.
Shrub roses
Shrub roses are heavily scented and free-flowering. They make a great addition to your garden and can be used as centrepieces in your garden or left to bloom in a separate section that you've dedicated to these roses.
Patio roses
Your patio needs some nature love, too. Small shrub roses like the pure white "Diamond" or the pale pink "Gentle Touch" are great choices. These dainty flowers thrive in containers.
Ground cover roses
These roses, as the name suggests, grow wider than they grow tall, and are ideal for covering sections of ground. The Carpet Rose is the best in this respect and is available in yellow, white, pink and red.
Wild roses
If you want to go back to the purest roses, then wild roses like Winged Thorn, Sweetbriar and Geranium Rose are great options.
Roses for cutting
What is better than growing roses that you can cut and decorate in your home in a vase? While you can choose any type of rose for decor, there are a few species that last the longest in a vase and offer a great fragrance. Princess Alexandra and William Shakespeare 2000 are two such options.
Get expert advice before you pick your roses
While you are visiting Ashtead Park Garden Centre, you will get the opportunity to talk to our expert team members. Do avail this opportunity and get expert opinion on which types of roses you should pick for your garden. You will need to discuss your preferences and limitations of the garden with our expert. Once they have this information, they will spare you the confusion born out of the overwhelming types of roses we have and point you to the ones that suit your needs best.
More than roses
Being a garden centre, we have much more to offer. For other plants than roses, garden clothing, supplies, giftware and much more. Additionally, we offer the ability to sit back and relax for a delicious breakfast or lunch in the Olive Tree restaurant, being part of the garden centre premises.
Visit our store and browse through our collection today!