Gift Shop Woking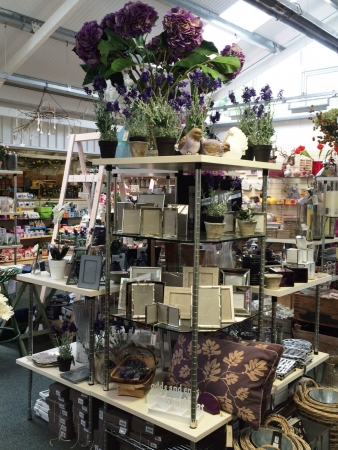 For a gift shop near Woking that offers some of the most unique items to surprise a loved one with, the Ashtead Park Garden Centre's gift shop is a must-visit place. We constantly keep updating our inventory, so that each time you visit, you'll be surprised by a different set of gift items on our shelves.
A glimpse into the offerings at our gift shop near Woking
Our gifts include:
Cards
Gift Items
House Plants
Kitchenware
Partyware
And more!
Additionally, you can also get an appealing gift wrap to pack up those presents in! Just visit our gift shop near Woking and browse through the extensive inventory!
Why choose our gift shop near Woking?
Here at Ashtead Park Garden Centre, we are fully committed to providing our customers the best service. We truly enjoy the little moments when our customers find a cute little Jellybean where they go "Awww" or a cheeky sign that they can laugh at and list the names of the people who might enjoy that joke. These moments are what make our gift shop near Woking such a lively place to be. We welcome all our guests with open arms and stock up the aisles with the most adorable, gorgeous and fun gift items that we can find. Additionally, you could visit our florist section to complement your gift with some flowers.
Our gift shop near Woking offers bundles of choices
No matter what your need, you'll always get something you've been looking for:
Cards
We have cards for children, for adults, for the ones celebrating anniversaries and birthdays, and those who need a little cheering up when they're down with the flu.
Children's Gifts
From a huge selection of Jelly Cats and themed lunch boxes and pouches to do-it-yourself kits and interactive books, you can find something for that special kid in your life.
Gift Card and Vouchers
If you're out of ideas, how about gifting them with a gift voucher so that they can spend on whatever they like! Our gift vouchers are available for any amount between £10 and £250.
Gift Items
Browse for candles, frames, scarves, gifts for moms and dads, mugs, ceramic and glass decorations and more!
Homeware
We have rustic, blue and grey themed sets that you can choose. We keep updating this category so you can find a new vase or a bowl every time you visit.
House Plants
House plants make a great gift item! Check our garden shop for the availability of plants—we change them as per the season. Usually, you can find a nice colourful range of orchids, cacti, ferns, hydrangeas, and gardenias.
Jewellery
We have a unique collection of jewellery that you might like to wrap up and send to your favourite person.
Kitchenware
For those who love cooking/baking, we have a variety of colourful and practical sets of kitchenware that may come in handy on your culinary quests!
Partyware
You can never go wrong with partywear. If you know someone who loves being a host, or if you're hosting one yourself, our selection of party glasses, bowls, decor and more would be great to check out.
Skincare
For someone who takes good care of themselves, quality skincare products would be a great gift. We house Beefayre, HTA, and Bronnley skincare products, so you can be sure to get the best products.
Of course, we stock much more besides gifts and flowers, visit our product range for more details. We're looking forward to your visit!