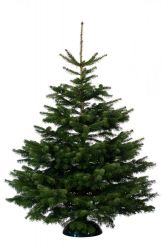 for schools, colleges and community areas
A vivid green Nordman Fir with fresh forest appeal and high needle retention is the perfect choice for your school hall, church or community area!
To guarantee one of our larger trees, please contact us now to place your order. Payment can be made just prior to delivery.

200 -250cm 7ft-8ft: £69.99
250-300cm 8ft to 10ft: £149.99 SOLD OUT
FREE delivery within 3 miles!