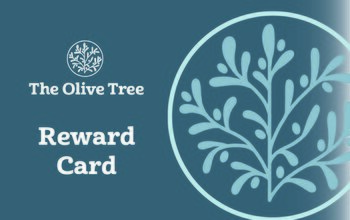 Earn points as you eat!
How does it work?
Earn 2 points for every £1 spent
Every Monday is Member's Monday - earn triple points (6 points for every £1 spent)
Once you have saved 100 points, you can start spending!
Points can be spent in The Olive Tree only, not in the garden centre shop (collect your separate Ashtead Park Garden Centre reward card at the garden centre tills, or sign-up here).
How do I Sign up?
Just ask a member of staff in The Olive Tree and they will give you a card and get you set-up to start collecting points. Cards available from 16 March 2022.