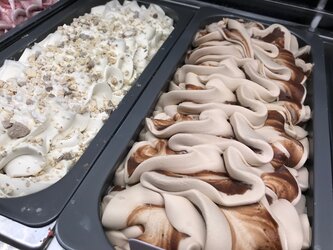 Exciting news - we are introducing a brand new range of traditional Italian gelato!

Flavours include:
Oreo, Kinder, chocolate, cotton candy, espresso, salted caramel, vanilla, strawberry, mint, pistachio, Nutty-ella, cookie dough & choc chunk, cherry & Malteser!
Vegan options available.
Choose one, two or three scoops on a waffle cone, or in a dish or tub.
Soft serve ice cream topped with sauce also available!