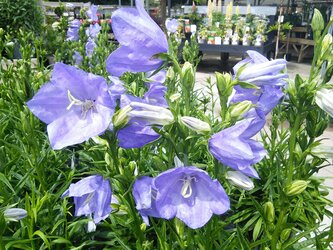 There are lots of reasons to love Campanula/Bellflowers:
Easy to grow!
Lots of flowers and long-flowering
Gorgeous shades of white and blue/purple
Loved by pollinators
In stock now:
Campanula Spring bell – perennial, semi-evergreen, masses of flowers over a long period in summer, clump-forming and compact.
Campanula poscharskyana - matt-forming perennial, will grow in crevices, star-shaped flowers. Great for ground-cover and rockeries in sun or shade.
Campanula Takion Blue – tall perennial perfect for the back of borders (up to 50cm tall). Large flowers. Cut dead stems to base before winter. Self-seeds.
Campanula Viking - Upright stems of large, trumpet-shaped, lightly fragrant flowers. Perennial and clump-forming.