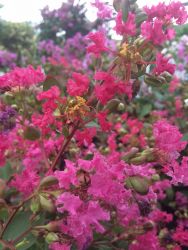 Lagerstroemia indica is native of the Indian sub-continent (hence the name Indica), also of China, Japan and Southeast Asia. It can be grown as a multi-stemmed shrub or a small tree and is very popular as a municipal landscape ornamental in the southern United States. Its common name, Crape myrtle, describes the delicate crepe-like flowers that appear in profusion from mid summer in a range of delicate colours.
A member of the Lythraceae (Loosestrife Family), the plant has many reported medicinal properties. The stem bark is a Febrifuge (used to reduce fevers) as well as causing bleeding to stop when applied to a wound. The root is astringent, detoxicant and diuretic and a decoction of the flowers is used in the treatment of colds.
Lagerstroemia indica is root hardy to -23 °C, meaning it will be killed back during harsh winters but regrow from the roots and flower in summer. It makes a lovely ornamental plant in the south of the UK and provides valuable colour to the garden or patio from July to September.