Looking for a no fuss, easy to care for houseplant? It is almost as if succulents were designed for this purpose. We offer a selection in different shapes, sizes and colours. Most succulents prefer a position with bright light and perhaps most importantly a free draining soil mix such as a potting soil formulated for cacti and succulents. These mixes usually have grit incorporated into them to ensure good drainage and aeration. Keep your succulents frost free and be careful not to overwater them.
Portulacaria afra or the "elephant bush", so named because it is the favoured food of the African elephant in its native habitat. This succulent is well suited to outdoor growing during the summer months, but must be moved indoors during the colder months of the year to keep it frost free. Will eventually grow into a small tree if space permits.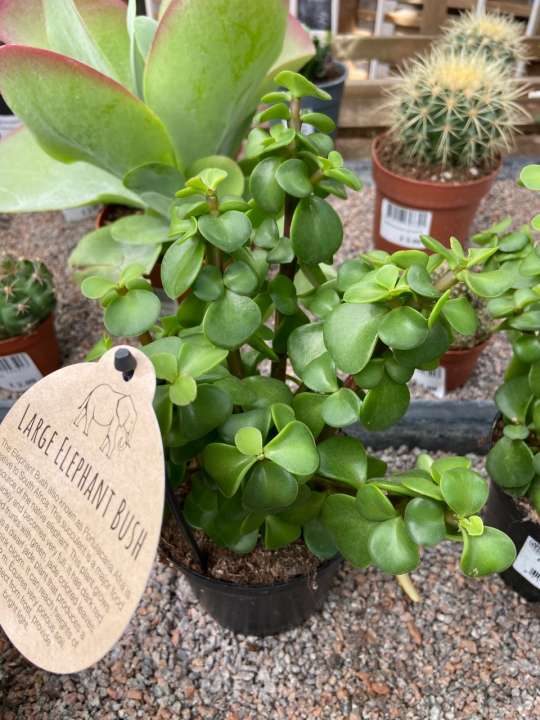 Crassula 'Budda's Temple' also originates from Southern Africa. an unusual, eye-catching plant with upward facing leaves that resemble a Chinese temple. When flowering produces a "bouquet" of small pink flowers on top of the plant.
The watch chain plant (Crassula lycopodioides) is a low growing plant that creeps over the surface of the soil and looks especially good when growing among rocks as it would in its native range. When happy it may produce numerous tiny yellow/green flowers all along its stems.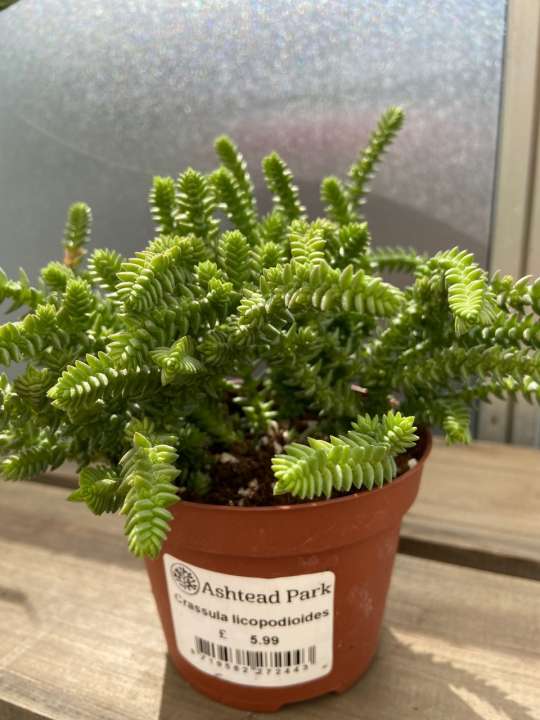 Euphorbia tirucalli is also known as the pencil cactus although it is not a true cactus. It is a member of the spurge family which includes poinsettia and the hardy euphorbias that you often find in British gardens. The pencil cactus has elongated pencil-like stems which tend to be green if grown indoors but when exposed to heat and strong sunlight they will often turn vibrant shades of pink and orange.
Kalanchoe tubiflora is called mother-of-millions or chandelier plant. A Madagascar native, this plant has the uncanny ability to reproduce very rapidly when parts of the plant get knocked off and fall to the ground. The wonderful chandelier-like appearance makes this plant quite a talking point!