Christmas
At Ashtead Park Garden Centre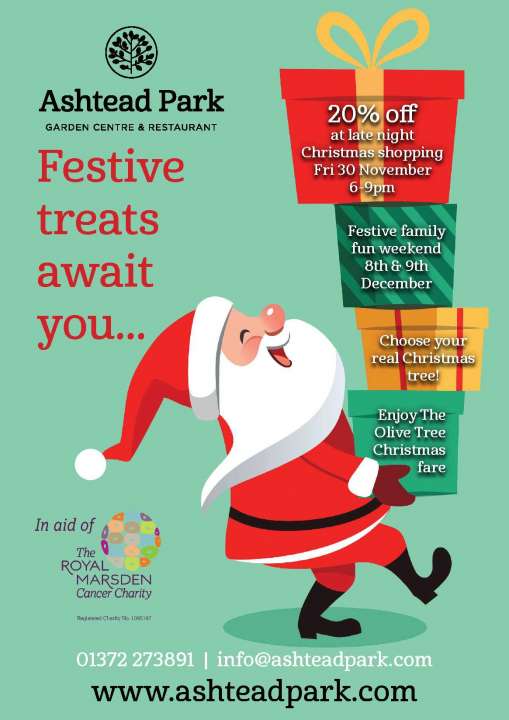 Sip mulled wine as you peruse the magical Christmas department and enjoy 20% off your shopping!* Save the date: 6-9pm Friday 30th November. 3 hours of extra Christmas shopping time - real Christmas magic!
*Discount applies to everything except real trees and wreaths, fuel, sale items, gift cards and vouchers, and The Olive Tree.
Christmas shopping evening details here.
Santa and the nativity animals will be back for a weekend of festive fun: Saturday 8th & Sunday 9th December 2018. Grotto tickets are now available to buy from the tills - buy in advance to guarantee your chat with Santa!
Festive family fun weekend details here.
Christmas Trees
Premium quality real cut trees and a selection of smaller pot-grown trees will be in store from the end of November. Information to help you choose is here!
Gorgeous decorations and gifts in store now! Have a look at a Christmas shop preview here. We'll be adding more, check the website or follow us on Facebook for updates!
Christmas parties
The Olive Tree is available to hire this Christmas - to book your event, call 01372 271188 or email theolivetree@ashteadpark.com for full information.
More information about parties is here.
Christmas lunches
Tasty traditional turkey and a selection of other delicious treats are on the menu in December! Come along with work colleagues, local groups and friends for a Christmas lunch.
Check out The Olive Tree Christmas menu here.