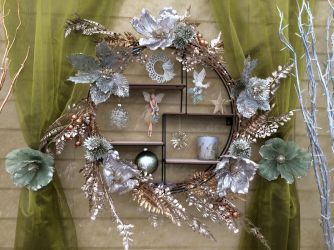 Our 6 Christmas stories provide something for all tastes!
Fairy Tale
A touch of fairy tale magic and sparkle with dragons, princesses, wolves, lost boys and Wonderland…
Add some nostalgic storytelling to your Christmas tree with Peter Pan, Cinderella, Alice in Wonderland, Red Riding Hood and many more well-loved characters! Relive the magic of childhood and share it with the next generation.
Doves and Roses
Elegant champagne gold is partnered with a soft green to create this sophisticated look. Large flowers look fantastic added to the tree, fairies and doves add a delicate touch.
Woodland
Classic shades of red, green and gold are perfect for a traditional Christmas colour palette. Here they are lifted by wonderful woodland characters – robins, hedgehogs, deer, fairies and more…
Go wild at Christmas!
Christmas with roar! Bears, lions, leopards, zebras – from Noah's Ark to safari
The perfect scheme for all the animal lovers. Add some furry friends to your tree for oodles of character. Their glittery feet add a touch of Christmas sparkle. We love the cheetah, which is your favourite?
Frosty Hellebore
The wonderful Hellebore, or Christmas Rose, is celebrated in this stunning theme. The warm pink tones lift the icy sparkle of the white frosty effects to give a sumptuous feel.
Classic Christmas rose design in deep pink and silver – delicate fairies, sparking snowflakes
Gingerbread
Jolly gingerbread characters, cute teddies and more bring this bright, fun scheme to life in shades of red, white and turquoise.
We have lots more inspiration for you too, so do come and have a look around!