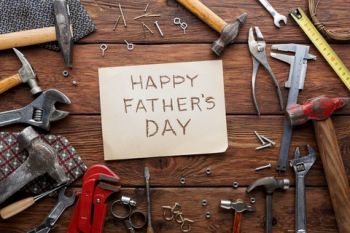 We have the best Fathers Day gift for your dad to surprise your dad and give him the best Day. On the third Sunday in June, this year on June 21, it's time to highlight your love for your dad. If it's your dad, granddad, stepdad, father in law or bonus father, all fathers need to get extra attention today. In our store, you'll find plenty of creative ideas to surprise your dad. Here are our tips for the best Fathers Day gift for your dad.
The best Fathers Day gift for the dad who likes the outdoors
Think of the beach, hikes and picnics. This one is for the dad who likes to be outside as much as possible. From camping to fishing, a lightweight folding chair or fire bowl are brilliant and useful presents. You never know, he might offer to take you on a trip, or to join him for a chat by the outdoor fire - perfect for social distancing!
If your dad is a gardener, this is the best Fathers Day gift for your Dad
Plants, plants and plants! Anyone who loves gardening will be pleased to receive a new plant. Why not pick up a new Rose with a name relevant to your dad or perhaps a new fruit Tree or a pot already planted up with the perfect perennials. If he has a favourite plant, why not pick one up, add a ribbon and a card to the pot and make him know how special he is to you.
The best Fathers Day gift for the dad who loves DIY
If your dad is handy around the garden, he'll always be happy to add some tools to his shed! No one can have too many spades and forks, so pick up a good sturdy set and wrap them up with love.
No matter what you decide to give to your dad for Fathers Day, he will know you love him, and nothing compares to spending time with him, so make sure you grab a few hours to spoil him.
For tools, plants, and so much more we have just what your dad will love for Fathers Day, in store.